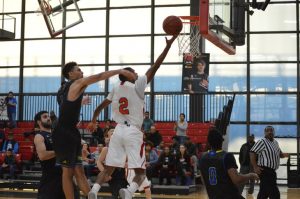 The Illinois Tech Men's Basketball team hosted ninth-ranked North Park University on January 21, marking the first time in the history of the program Illinois Tech took on a ranked NCAA Division III opponent. Illinois Tech built an early lead and withstood a strong Viking second half, holding for an 81-77 victory.
How it Happened
North Park scored the first five points of the contest before Illinois Tech went on an 8-0 run to take its first lead.
A Colin Lake three-pointer tied the score at eight, but that would be the last time North Park would be even with the Hawks in the first half. With consistent play on both ends of the floor, the Scarlet Hawks managed to build a lead as high as 16 in the first half at 34-18 with 4:06 to go before intermission.
North Park pulled to within six just before halftime, but Parker Joncus nailed a three with 31 seconds to go to give Illinois Tech a 39-30 advantage going into the second half.
After holding North Park's two preseason All-Americans, Juwan Henry and Jordan Robinson, to a combined two points in the first half, NPU's two stars came to life. The scoring of the two players, along with sharpshooting from T.J Coobs, allowed North Park to build a 51-47 lead with 14:28 to go.
The Scarlet Hawks re-took the lead after Anthony Mosley Jr. hit a pair of free throws after a technical foul. Two straight three-point field goals from Malik Howze allowed Illinois Tech to open the lead back up to seven with 12:24 to go.
Illinois Tech's led by as much as ten points, but North Park would not go down quietly. The Vikings slowly chipped at the Illinois Tech lead, tying the score at 73-73 on a Henry basket with 2:23 to play.
Down the stretch, the Scarlet Hawks did a terrific job of running clock and drawing contact. Illinois Tech made six straight free throws to extend the lead to five at 80-75 with 11 seconds to go.
Henry hit a jumper with eight seconds left to pull Illinois Tech back to within three but Howze split a pair of free throws after a successful inbound pass to make it a two possession game once again. Max Hisatake blocked a last-second heave from Robinson to close out the game.
Scarlet Hawk Standouts
Samuel Rarick was dominant in the first half, scoring 12 points on five-of-seven shooting. He finished with a game-high 23 points to go along with nine rebounds, two steals, and three blocked shots.
Howze scored 22 points and was nine-of-10 from the foul line.
Mosley Jr. scored 12 points, dishing out eight assists and five rebounds.
Hisatake scored nine points and corralled 12 rebounds to lead the Scarlet Hawks.
Stats to Know
North Park attempted 10 more shots from the floor and 10 more three-point attempts, but the Scarlet Hawks took 11 more free throws.
Tech out rebounded the Vikings 41-39.
After both teams turned the ball over frequently early on, Illinois Tech tallied 13 turnovers while NPU committed 12 giveaways.
Up Next
Illinois Tech will travel to Moody Bible Institute on Tuesday, January 24. Game time is set for 7 p.m.