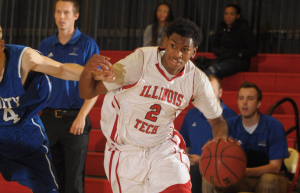 Illinois Tech Men's Basketball had its first home game of the season on December 3, taking on Milwaukee School of Engineering. The Scarlet Hawks would fend off a late Raiders push to come away with the 57-54 victory.
How it Happened
The Scarlet Hawks jumped out to an early 10-7 start, as Anthony Mosley Jr. dished out some key assists and Samuel Rarick scored six of Illinois Tech's first 10 points.  
The Raiders would battle back and take the lead 12-11 after Alex Darville converted a layup and the foul shot. From there, it turned into a back-and-forth affair with eight lead changes late in the first half.
After going down 26-23 with two minutes to go, the Scarlet Hawks would go on an 8-0 run to end the half. Mosley Jr. scored or assisted on all eight of those points, including a jump shot buzzer-beater to end the half.
The Scarlet Hawks opened the second half on a 9-2 run as Malik Howze started things off with a three. Collin Seubert would knock down a three for the Raiders, starting a run for them as well and pulling MSOE to within four.
After the Raiders missed a key free throw down 51-50, the Scarlet Hawks would hold the lead thanks to solid defense and key baskets from Rarick and Jake Digiorgio. The Raiders had a chance to tie the game at 57 with 5.1 seconds to go, but the Seubert three-point attempt missed as the Scarlet Hawks would secure the win.
Scarlet Hawk Standouts
Max Histake had a great game, coming away with his first collegiate double-double (12 points on six-of-10 shooting, 13 rebounds). He was also a force on the defensive end, tallying four blocks and adding a steal as well.
Mosley Jr. added a double-double of his own, as he had 11 points and 10 assists.
Rarick, despite foul trouble in the first half, finished with 12 points on six-of-eight shooting.
Stats to Know
Both teams shot around the same from the field (Raiders 38.7%, Illinois Tech 39.7%).
The three-point shot was hard to come by for both the Raiders (two-of-17) and Scarlet Hawks (one-of-13).
Illinois Tech would go to the free throw line seven more times than the Raiders (four-of-eight compared to 10-of-15).
Illinois Tech would take advantage of the Raiders turnovers, outscoring MSOE 11-6 off miscues.
Up Next
The Scarlet Hawks have several days off before they travel to Fontbonne University on Monday, December 12 for a 7 p.m. tip.