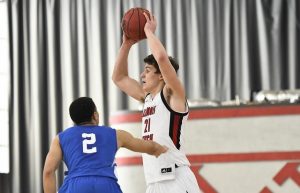 After a sluggish start to the contest, the Illinois Tech Men's Basketball team (16-6) bested the Eagles of Robert Morris-Peoria Eagles 84-74 on February 7. The victory was a fitting tribute to the late Ed McQuillan, the former Illinois Tech Head Coach whom the Scarlet Hawks honored prior to tip-off.
How it Happened
The Eagles came out of the gate looking to negate Illinois Tech's size advantage with a fast-paced gameplan. Early on, the thought process worked for RMU, as the Eagles took an 11-3 lead just after five minutes of gametime.
After some early turnovers, the Scarlet Hawks adjusted nicely to the pace, matching the Eagles up and down the court while locking the opponent down defensively. Illinois Tech caught the Eagles at the 12:13 mark to tie things at 12-12.
Illinois Tech took the lead and never looked back, using an impressive defensive display in the first half to vault ahead to a 46-30 advantage at intermission. Illinois Tech blocked 10 shots, recorded six steals, and held the Eagles to 28.9% shooting in the half.
The Eagles' pressure went up a notch in the second half, causing Illinois Tech to be a bit careless with the basketball. The Hawks turned the ball over eight times in the first 10 minutes of the half, allowing the Eagles to pull back to within 12 at 66-54.
The Scarlet Hawks managed to build the lead up to 18 after calming down offensively, but RMU-Peoria brought some additional full-court pressure to swing the momentum back in its favor. However, the Eagles could not pull any closer than 10 points the rest of the way.
Scarlet Hawk Standouts
The big tandem of Jake Digiorgio (25 points, 18 rebounds, nine-of-13 shooting) and Max Hisatake (20 points, eight rebounds, eight-of-12 shooting, career-high nine blocks) dominated and exploited a distinct height advantage.
Malik Howze had 20 points, eight assists, three steals, and shot 10-of-11 from the foul line.
Stats to Know
The Scarlet Hawks blocked an impressive 18 shot attempts, the most in a game in the Todd Kelly era.
Illinois Tech's 21 turnovers kept the Eagles in the game, which in part allowed RMU to attempt 22 more shots than the Scarlet Hawks (81-59).
Despite the shot disparity, the Scarlet Hawks and Eagles both made 29 shot attempts. Illinois Tech shot 49.2% while the Eagles shot 35.8%.
Rebounding (49-39) and free throw attempts (31-17) were big advantages for the Scarlet Hawks.
A boxscore oddity: RMU-Peoria's leading rebounder was the team, as the Eagles recorded 14 team rebounds. Ten of those were offensive, coming after Illinois Tech's blocks out-of-bounds.
Up Next
The Scarlet Hawks will head to Moody Bible on Saturday, February 10 at 3 p.m. for a re-match of Illinois Tech's victory on January 27.