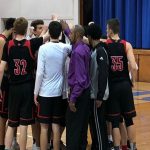 The Illinois Tech Men's Basketball team kicked off the 2017–18 season on November 17 at the North Park Tournament against Gustavus Adolphus. Despite a sluggish first ten minutes, the Scarlet Hawks overcame a large early deficit and won in overtime 70-66. The following day the team won a nail-biter, downing North Park University 70-69 to move to 2-0 and earn first place at the NPU Tip-Off Tournament.
How it Happened – Gustavus Adolphus 
Illinois Tech started slow offensively, failing to score until a Jake Digiorgio bucket three minutes in. Kelsey Thomas hit a few threes for the Gusties to help build an 11-4 Illinois Tech deficit.
The Gusties lead continued to build, reaching as high as 15 (25-10) at the 9:00 mark behind great outside shooting.
Anthony Mosley Jr. and the Scarlet Hawks would increase the tempo, helping to sway the momentum back in Illinois Tech's favor. The run was highlighted by a Mosley spin through two defenders and an off-hand finish on the fast break.
Thanks to some increased intensity on the defensive end as well, the Scarlet Hawks were able to tie it up with 1:19 left in the half on a Digiorgio and-one. The Scarlet Hawks would claim the lead thanks to four straight Mosley Jr. points before the break, taking a 36-32 halftime lead.
Early in the second half, Max Hisatake scored six quick points to build Illinois Tech's lead to 11 (47-36) at the 14 minute mark. His burst included a fast break dunk from a Mosley Jr. assist.
Gustavus Adolphus proceeded to make a run, cutting the lead to three with 10:00 left at 47-44. After a mini-run from Illinois Tech, the Gusties would bring the advantage back to two at 53-51 just three minutes later.
With Illinois Tech up by five with 2:00 left, a Vannis Smith three for the Gusties made the score 60-58. After a missed three by Illinois Tech, the Gusties tied it up for the first time since late in the first half on a Riley Sharbono basket with 55 seconds left.
Another empty possession put the Scarlet Hawks in a must-stop position with 22 seconds left. The Scarlet Hawks forced a fadeway missed jumper to send it to overtime.
After some traded baskets to start overtime, the Scarlet Hawks took a 68-66 lead with a minute left behind the play of Digiorgio, who scored two straight times down the court to give Illinois Tech the lead.
Illinois Tech forced a GA foul. After Digiorgio shot a pair of free throws, the Scarlet Hawks played tough defense on the ensuing inbound, forcing a turnover. The Gusties fouled Mosley Jr., who split a pair himself. Digorgio grabbed a rebound after a late three-point attempt from the Gusties to earn a win.
Scarlet Hawk Standouts
Mosley Jr. tallied 12 points and three steals in the first half. He finished with 17 points, seven assists, four rebounds, and five steals.
Digiorgio was the leading scorer, dropping 20 points on nine-of-16 shooting with eight rebounds.
Mailk Howze chipped in 15 points thanks to eight-of-10 shooting from the foul line.
Hisatake came on strong in the second half, grabbing five rebounds and scoring nine points after halftime.
Stats to Know
The foul line was a huge reason for the win, as the Scarlet Hawks attempted 28 free throws compared to just eight for the Gusties.
Illinois Tech had just 11 turnovers compared to 16 for GA.
This was the first time the Hawks have won the season-opener in the Todd Kelly era.
How it Happened – North Park 
A slow start plagued the Hawks again, as a 7-2 Viking run to start the game prompted a quick Todd Kelly timeout.
Illinois Tech leaned heavily on Hisatake and Mosley Jr. in the first half. The size mismatch helped propel Illinois Tech back into the contest after trailing by as many as eight. A three-pointer from Calvin Schmitz gave Illinois Tech its first lead of the night, 18-16, at the 12:14 mark.
The lead would reach as high as six on several occasions, but North Park stayed close all half. Illinois Tech led 36-34 at intermission.
North Park responded with a quick three to take a one-point lead out of halftime, which Hisatake erased with a basket on Illinois Tech's next possession. A full 10 minutes would pass before the Vikings took another lead at 50-49, which once again was wiped out fast, this time on a three-pointer from Howze.
Illinois Tech's led by as much as seven (63-56 with 5:26 left), but North Park's outside shooting and some poor Illinois Tech foul shooting allowed the Vikings to crawl back. North Park tied things up at 65-65 before Howze made a clutch three with 2:10 to play.
After two missed opportunities for the Vikings on the next possession, North Park managed to get a steal and a foul, sinking two free throws with 38 seconds left to pull back within one.
Two missed Illinois Tech foul shots gave North Park the ball with 20 seconds left. After a driving layup by North Park's Billy Kirby to put Illinois Tech down one, the Scarlet Hawks came up the floor quickly and found Howze, who drove middle and hit a floater in the paint with five seconds to play for the game-winner.
Scarlet Hawk Standouts
Hisatake was an absolute force, recording 20 points on eight-of-13 shooting to go along with 18 rebounds and four assists, all of which were team-highs.
Mosley Jr. ended up with 20 points on eight-of-12 shooting with seven rebounds, three assists, and two steals.
Howze finished with just 10 points, but all eight of his second-half points came in key moments, including the game-winner.
Digiorgio had 15 points and nine rebounds.
Stats to Know
Mosley Jr., Digiorgio, and Hisatake were named All-Tournament Team.
Free throws were a problem for both teams. North Park was 66.7% from the line (14-of-21), while Illinois Tech was 55.6% (15-of-27).
The Scarlet Hawks dominated the boards to a 48-28 advantage.
Up Next
The Scarlet Hawks will play at Rose-Hulman in Terre Haute, Indiana, on Tuesday, November 21 at 6:30 p.m.