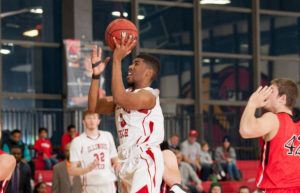 The Illinois Tech Men's Basketball team played its last regular season road contest against the Maranatha Baptist University Sabercats, Illinois Tech came out on top 78-71 for its fourth straight win.
How it Happened
The Sabercats came out strong, as two straight Clayton Morrison lay-ups put MBU up 9-5. After Illinois Tech took the lead, Morrison nailed a three-pointer to give the Sabercats a 14-12 advantage.
Illinois Tech seized control in the latter part of the first half, leading by as many as eight at 31-23. The Scarlet Hawks would go cold over the half's final three minutes, going scoreless as MBU was able to pull to within three, 31-28, at halftime.
The second half featured a higher octane offense from both squads. Illinois Tech was able to hold off the Sabercats for most of the half, while MBU pulled to within one possession several times before Illinois Tech extended the lead.
MBU was able to break through late. Down 66-60 at the 3:25 mark, the Sabercats made three-point shots on three straight possessions. A lay-up on the next possession from Micah Shepherd, who at this point had scored MBU's last eight points, put the Sabercats ahead 71-70 with 1:12 remaining. It was the team's first lead since the 11:30 mark in the first half.
But the Scarlet Hawks would not be denied. Malik Howze scored three of his game-high 24 points on the next possession, scoring off an Anthony Mosley Jr. pass. Mosley Jr. added a steal on MBU's next possession, leading to a lay-up and a 75-71 Illinois Tech lead with 25 seconds remaining.
The Sabercats came up empty on the game's final possessions. Jake Digiorgio hit three of his four free throws as the clock wound down to seal the victory.
Scarlet Hawk Standouts
Howze's play was outstanding. In 38 minutes of action, the sophomore scored 24 points, four rebounds, four assists, and two steals. He was six-of-14 from the three-point line, giving him a season-high in that category as well.
Making just his second start of the season, Jake Bruns gave Illinois Tech a much needed boost from the outside. He scored 11 points in 18 minutes on three-of-six shooting from downtown.
Samuel Rarick recorded his fifth double-double on the season with 12 points and 12 rebounds.
Digiorgio was strong off the bench, scoring 13 points and adding seven rebounds in just 21 minutes.
Max Hisatake had a game-high 13 rebounds and three blocked shots.
Stats to Know
Neither team shot particularly well, as Illinois Tech's percentage (39.7%) narrowly outdid MBU's (39.1%).
Illinois Tech attempted twice as many three-pointers (26-13), but made just one more (9-8).
Illinois Tech held advantages both on the glass (44-33) and from the free throw line (15-of-20 compared to 9-of-10).
Up Next
Illinois Tech returns home for the first time since defeating #9 North Park University on January 21. The Scarlet Hawks will play the first of a six-game homestand on Saturday, February 4 when the University of Dubuque visits the Keating Sports Center for a 4 p.m. tip-off. Live audio, video, and stats will be provided. The live audio will be powered by Illinois Media School.