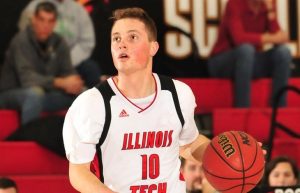 The Illinois Tech Men's Basketball team had a preview of a 2018–19 conference opponent on February 14, taking on the Milwaukee School of Engineering Raiders. MSOE (15-9), who currently sits in third in the Northern Athletics Collegiate Conference, pulled away late to defeat the Scarlet Hawks (17-7) 65-59.
How it Happened
The Raiders came out of the gate strong, scoring the game's first five points.
MSOE's lead held until the 12:41 mark of the first half, when Malik Howze drained a three-pointer to tie the contest at 13-13. On the next possession, a Howze layup gave Illinois Tech a 15-13 lead.
The Scarlet Hawk lead would last until MSOE's Matthew Kirmse (13 points, four rebounds) made all the foul shots of a three-point play to give the hosts a 23-21 lead at the 6:12 mark. From then on, an astounding 10 lead changes took place in the remainder of the first half, with MSOE's Jason Palesse's (13 points, four assists, two steals) layup providing the final change at the halftime buzzer. The Raiders led 36-35 at halftime.
Illinois Tech scored the first five points of the second half on a Max Hisatake layup and one of Jake Bruns' six three-pointers. The lead grew to as high as five on a Parker Joncus three-pointer (45-40) with 15:17 left to play.
The Raiders managed to slow the pace of the contest and make the game a defensive-minded battle. Over the next 10 minutes, the Scarlet Hawks managed just two points. A Hisatake basket with 5:48 left to play ended a 12-2 Raiders run with the score in favor of MSOE at 52-49.
Illinois Tech was unable to reel the Raiders in the rest of the way, with MSOE's lead reaching as high as seven on three different occasions.
Scarlet Hawk Standouts
Bruns led the team with 18 points on six-of-11 shooting, all from beyond the arc. He also had three steals.
Hisatake had his second straight double-double (12 points, 13 rebounds).
Anthony Mosley Jr. continued to work his way back into action with 11 points and three assists.
Stats to Know
Free throw shooting was the difference. The Raiders shot 76.2% from the foul line on 21 attempts. Illinois Tech was just one-of-one.
In a game where just 97 shots were attempted, rebounds were scarce. The Raiders held a slim advantage (27-26) in the category.
Up Next
On Tuesday, February 20 the Scarlet Hawks will retire the jersey number of the school's all-time leading scorer and second-leading rebounder, Samuel Rarick, as a part of the team's last regular season game. Illinois Tech will take on East-West University at 7 p.m. in Keating Sports Center. Live audio, video, and statistics will be available. The live audio will be powered by Illinois Media School.