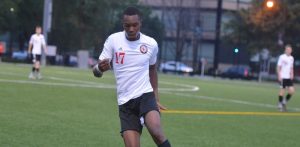 The Illinois Tech Men's Soccer team hit the road for another non-conference matchup on September 11, traveling to southwest Michigan to oppose the Grace Christian Tigers. Behind a multi-goal contest from Oluwaseun Ogunsanya, the Scarlet Hawks cruised to a 5-0 win.
How it Happened
Grace keeper Drew Steensma recorded three saves over the first 16 minutes, but the Scarlet Hawks were able to skip their next two shots past the netminder. Santiago Bartolome scored in the 17th minute off an Ogunsanya assist before Ogunsanya scored off a Jonathon Clarke pass just seven minutes later.
After a shot was denied with 7:38 to play in the half, Ogunsanya fired another just 1:11 later for his second goal, this time courtesy of a Jason Miller feed.
After several shots on net in the first half, the Tiger defense tightened in the second. Illinois Tech was still able to score twice thanks to first career goals from Jacob Westerhoff (via a penalty kick) and Luke Holzman.
Scarlet Hawk Standouts
Ogunsanya had his first career mulit-goal game, scoring twice on five shots (four on goal). He now leads the team with three tallies on the season. He also had an assist
The Scarlet Hawks got a goal apiece each from Westerhoff (three shots, two on goal), Holzman (two shots, one on goal), and Bartolome (two shots, one on goal).
Clarke and Miller also provided assists.
Recently named Scarlet Hawk of the Week Anastasios Manolis recorded his second straight shutout. He was largely untested thanks to a strong Illinois Tech back line, recording his first and only save with 2:43 left in the match.
Stats to Know
The Scarlet Hawks outshot the Tigers 17-3 overall and 10-1 on goal.
All three of Illinois Tech's victories this year have been shutouts.
Illinois Tech has won its last two meetings against Grace by an aggregate of 7-0.
Up Next
The Chicago Cup Series resumes on Friday, September 14 at 7 p.m. at Stuart Field as the Scarlet Hawks host Moody Bible Institute. The Scarlet Hawks will play a single game this season against the Archers as opposed to a home-and-home like in years past.  Live audio, video, and stats will be available. The live audio will be powered by Illinois Media School.