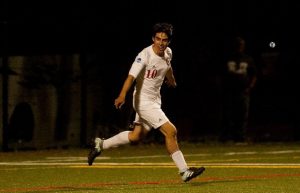 The Illinois Tech Men's Soccer team hosted the Moody Bible Archers on October 28 for the second part of the Chicago Cup Series, as well as the team's Senior Day. After a stalemate for most of the match, Illinois Tech broke through late with two goals to send seniors Emmanuel Zambrano, Norikazu Honda, and Diego Gutierrez Coronel off in style. Illinois Tech closed the regular season with a 13-4-1 record.
How it Happened
Illinois Tech had a few chances in the first half, including a Zambrano shot that missed just high. However, The Archers kept the Illinois Tech offense down to just six shot attempts over the first 45 minutes.
The Scarlet Hawk defense answered as well, holding the Archers to two shots in the first half to bring about a 0-0 intermission score.
To open the second half, the Scarlet Hawks were aggressive. Illinois Tech attempted 10 shots in the half's first 17 minutes, but Moody continued to hold the team scoreless.
Things changed for the Hawks late. Christopher Reed converted on a beautiful shot attempt from 30 yards out for a goal in the 80th minute.
The Archers rallied late, forcing several key defensive stops for Illinois Tech. After gaining possession with under 20 seconds to go, Santiago Bartolome found Gutierrez Coronel upfield, who was able to beat the goalkeeper to score in his last home game with just three seconds remaining. It was the exclamation point on the victory.
Scarlet Hawk Standouts
Gutierrez Coronel scored his fourth goal of the season with his final goal at Stuart Field. Honda (two shots) and Zambrano (one shot) were also strong contributors on Senior Day.
Reed scored his team-leading 10th goal and his fifth game-winning tally of the season. He led all players with nine shots and five shots on goal.
Christopher Beluska earned his first win of the season in net, pitching a shutout and making three saves in the second half.
Bartolome had an assist and a shot attempt.
Stats to Know
Illinois Tech outshot the Archers 25-8 overall and 19-6 in the second half.
Illinois Tech had 10 fouls compared to Moody Bible's five.
The Scarlet Hawks won both ends of the Chicago Cup Series against Moody Bible for a second straight year.
Up Next
Illinois Tech awaits the announcement of the USCAA Tournament field. If selected, the Scarlet Hawks will head to Virginia Beach, Virginia, to compete from Thursday, November 9 through Monday, November 13. Illinois Tech was ranked eighth in the latest USCAA Coaches' Poll. A total of 12 teams earn tournament bids. Stay tuned to www.illinoistechathletics.com for the latest.