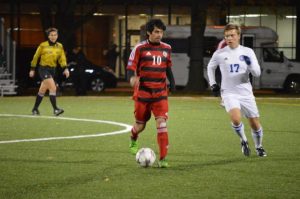 The Illinois Tech Men's Soccer team played host to Moody Bible Institute on October 20 in part one of the Chicago Cup Series. In the team's final home match of the season, the Scarlet Hawks defeated the Archers 3-0.
How it Happened
The Scarlet Hawks struck first. In the 38th minute, Brandon Bortei-Doku scored after a Diego Gutierrez Coronel corner kick deflected off of a few Archers. The header goal put Illinois Tech up 1-0. 
The Scarlet Hawks outshot the Archers 10-5 in the first half, but led just 1-0 at half.
An offensive onslaught started the second half, as the Hawks tallied four shots on goal in the first five minutes. One of those resulted in a goal, as a Gutierrez Coronel pass was lifted perfectly in front of the net for a Quentin Dreilich goal.
Santiago Bartolome added insurance in the 84th minute, scoring from 25 yards out.
Scarlet Hawk Standouts
Bortei-Doku scored and tallied two shots.
Dreilich attempted three shots and scored.
Gutierrez Coronel tallied the match's only assist and attempted five shots.
Bartolome led Illinois Tech in shots with seven, and scored a goal.
Stats to Know
Shots were in Illinois Tech's favor 29-12.
Shots on goal were also to the advantage of Illinois Tech 12-4.
Corners were in favor of Moody 6-5.
The Chicago Cup Series will resume at Moody Bible on Saturday, October 29. Moody will have to defeat the Scarlet hawks by four goals for Illinois Tech to lose control of the series.
Up Next
The Scarlet Hawks will travel to Lake Forest College on Tuesday, October 25 to take on the Foresters at 4 p.m.