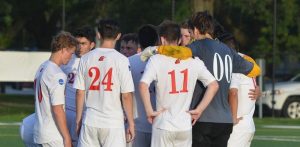 The Illinois Tech Men's Soccer team faced the Milwaukee School of Engineering Raiders on September 22, falling 4-0. The defeat dropped Illinois Tech to 4-3 overall and 0-2 in the Northern Athletics Collegiate Conference while moving the Raiders to 6-2 overall and 2-0 in the league.
How it Happened
The Scarlet Hawks played near-even with the Raiders in the early portions of the match, with each team attempting three shots each in the first 20 minutes. Oluwaseun Ogunsanya was the only player for either team to attempt a shot on net during that span.
With 20:01 gone by in the first half, the Raiders' Joey Schauer scored on a double assist to put the hosts on the board first.
Just two minutes later, NACC goals leader Rade Novakovich scored for the ninth time this season, finishing off of a pass from Schauer to double the lead.
The Scarlet Hawks fired two more shots on net in the first half, but both Peter Fouchet and Ogunsanya's tries were turned away to hold the 2-0 score at halftime.
Illinois Tech was able to hold strong defensively until the 82nd minute when Schauer scored his second goal of the match on a header off of a Sam Gianakos corner kick.
With just 58 seconds left, the Raiders capped things off with a Connor Kapczynski goal, with Gianakos and Novakovich providing the assists on the play.
Stats to Know
A combined 39 (21 for MSOE, 18 for Illinois Tech) fouls were issued. The Scarlet Hawks were also issued four yellow cards and a red card, while the Raiders were handed one yellow.
MSOE led in shots 13-6.
Up Next
The Benedictine University Eagles will host Men's Soccer for an NACC match on Wednesday, September 26 at 7 p.m.