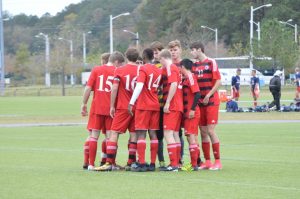 The Illinois Tech Men's Soccer team played its last match of the season on November 11 at the United States Collegiate Athletic Association National Championships. Illinois Tech built a 3-0 lead and then hung on late for a 3-2 victory over #11 Albany College of Pharmacy and Health Sciences.
How it Happened
The two teams started out even, exchanging chances for most of the first half.
In the 33rd minute, Diego Gutierrez Coronel put Illinois Tech on the board. After a few chances at the net for Illinois Tech, the senior skipped one past the goalie for the first goal of the match.
It did not take long for the Scarlet Hawks to get on the board in the second half. Zachary Whritenour converted on his chance to build the lead to two just four minutes into the half.
Brandon Bortei-Doku extended the lead four minutes later with his tenth goal of the season.
ACPHS would not go down without a fight. The Panthers rallied late, scoring twice in a three minute span to trim the lead to one with 9:20 left to play.
The Hawks played excellent preventative soccer the remainder of the match, keeping the ball out of harm's way to hold on for the win.
Scarlet Hawk Standouts
Gutierrez Coronel had five shots (two on net) and scored one of the three goals.
Whritenour had two shots. His only shot on net was a goal.
Bortei-Doku took four shots (two on net), scoring once.
Anastasios Manolis played a scoreless first 45 minutes in goal, earning the win and making one save.
Stats to Know
Shots were in favor of Illinois Tech at 21-7.
ACPHS recorded 15 fouls compared to 14 for Illinois Tech.
Illinois Tech finished the season with a 14-5-1 record.