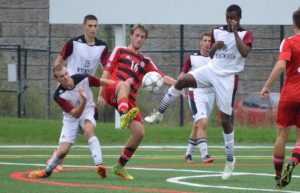 The Illinois Tech Men's Soccer team traveled up I-90/94 to Lake Forest College on October 25. The Scarlet Hawks fell 6-2.
How it Happened
Lake Forest dominated the first half, scoring in the fifth, eighth, and 28th minutes to lead 3-0 at the half.
After Forester tallies in the 49th and 53rd minutes, Zach Whritenour recorded the first of his two assists in the 58th minute. Quentin Dreilich scored Illinois Tech's first goal of the match.
Just four minutes later, Whritenour found Noah Griffith for Illinois Tech's second goal.
Lake Forest added a late tally to bring the match to its 6-2 final
Scarlet Hawk Standouts
Griffith and Dreilich each scored for Illinois Tech on three shots.
Whritenour added two assists.
Idris Ayantoye and Peter Fouchet attempted two shots.
Stats to Know
Lake Forest outshot Illinois Tech 21-13
Illinois Tech's only two shots on net went for goals.
Lake Forest had the match's only yellow card.
Up Next
The Scarlet Hawks will wrap up the 2016 season on Saturday, October 29 with the second part of its Chicago Cup Series at Moody Bible. Match time is set for 2 p.m. Illinois Tech won the first half of the series against the Archers 3-0.