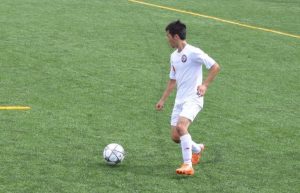 The Illinois Tech Men's Soccer team wrapped up the 2016 season on October 29 with part two of the Chicago Cup Series against Moody Bible Institute. The Archers downed Illinois Tech 3-0 in the match, but ensuing penalty kicks gave the Scarlet Hawks the Chicago Cup.
How it Happened
The Scarlet Hawks allowed one first half goal, coming off the foot of Moody's Peter Bernstrom with 21 minutes remaining before halftime.
Moody's offense picked up in the second half, starting with a tally from Dylan Matthews 14 minutes after intermission.
Matthews scored once again with just seven minutes remaining, giving the Archers the third and final goal of the match.
Since the Scarlet Hawks won the first part of the Chicago Cup Series 3-0 back on October 20 at Stuart Field, penalty kicks followed the match to determine the winner of the Chicago Cup. The Scarlet Hawks prevailed, giving the team the victory in the first annual series.
Scarlet Hawk Standouts
Stats to Know
The Scarlet Hawks finished the season with a 7-10-1 record.
Moody outshot Illinois Tech 18-15.
Both of the match's yellow cards were administered to Illinois Tech.