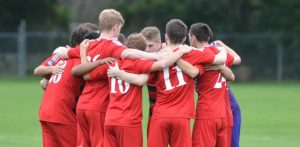 The Illinois Tech Men's Soccer team hosted North Central College on September 30 in a non-conference match. The Scarlet Hawks led early, but North Central (6-3, 1-1 CCIW) stormed back to tie the game in regulation and win in overtime (4-6, 0-4 NACC).
How it Happened
After a quiet first half for both sides, Manuel Lopez scored his first collegiate goal after a scrum in front of the net in the 39th minute. The assist came courtesy of Ryan Fagan.
With just 1:17 left to play, Alexis Flores scored on a penalty kick to tie the score.
Thanks to a double assist with Gavin Sanchez and Jared Collier, Flores scored again just 43 seconds into overtime to end the contest.
Scarlet Hawk Standouts
Lopez scored Illinois Tech's lone goal. Fagan provided the assist.
Illinois Tech's goalkeeper provided 16 saves. Anastasios Manolis stopped six in the first half, while Alex Kern had 10 saves in the second half and overtime.
Stats to Know
The Cardinals outshot the Scarlet Hawks 31-10.
Illinois Tech committed 18 fouls compared to NCC's eight.
Up Next
Illinois Tech will resume conference play against the Concordia University Chicago Cougars on Wednesday, October 3 at 7 p.m. at Stuart Field. Live audio, video, and stats will be available. The live audio will be powered by Illinois Media School.