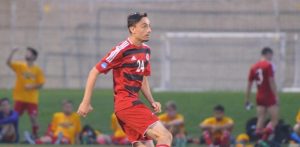 The Illinois Tech Men's Soccer team fell to the North Park University Vikings, who were ranked #2 in the nation in the United Soccer Coaches preseason poll, 3-0.
How it Happened
North Park's offense came quickly, as the Vikings scored off of a rebound in the second minute. Just five minutes later, NPU was able to score on the left side to go up 2-0.
The Illinois Tech defense tightened up later on, limiting the rest of NPU's opportunities in the half. Jack Critzer also had a shot on goal in the half as the score held 2-0 heading into intermission.
Several fouls on both sides slowed the early portion of the second half, with the first shot on goal coming 21 minutes in on a header from Cesar Garza.
In the later stages of the second half, North Park was able to score once again.
Scarlet Hawk Standouts
Garza and Critzer attempted shots on net for the Scarlet Hawks.
Anastasios Manolis played well in relief, making three saves in the second half.
Up Next
The Scarlet Hawks will play at Beloit College on Friday, September 7 at 4:30 p.m.