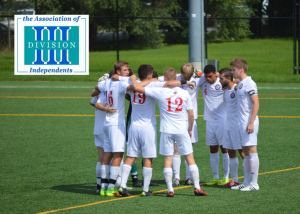 The Association of Division III Independents revealed its Men's Soccer All-Independent Teams and Awards on November 17. The Illinois Tech Scarlet Hawks had four honorees.
Quentin Dreilich was picked as the top midfielder on the All-Independent Second Team. The junior captain scored four times and added an assist for the Scarlet Hawks. He scored in Illinois Tech's shutout wins over Andrews University on September 30 and Moody Bible Institute on October 20. His assist came in Illinois Tech's win over Wentworth Military Academy on October 16.
Anastasios Manolis was selected as the top goalkeeper on the All-Independent Second Team. Manolis started 11 of the team's 18 matches this season, ranking third in AD3I with 1.71 goals allowed average. He made 46 saves, posting a .719 save percentage and three shutouts, including a six-save performance in a 2-0 win over Ripon College on September 14.
Zach Whritenour was also named to AD3I's Second Team as a defender. Splitting time this season between defense and midfield, the freshman helped stabilize a back line that allowed just 1.92 goals per game. The Wisconsin native also tallied one goal (September 25 at Manchester University) and three assists on the season, including a two-assist performance at Lake Forest College on October 25.
Peter Fouchet was the lone Scarlet Hawk selected to AD3I's Third Team. The freshman forward was instrumental in the team's 1.92 goals allowed per game while serving as a catalyst on the offensive end.