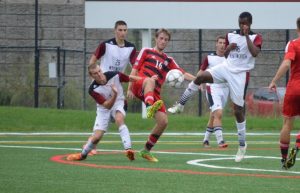 The Illinois Institute of Technology Men's Soccer team has released its schedule for the 2017 season. This year's slate features 12 regular-season home matches, the return of the Illinois Tech Invite, the Chicago Cup Series with Moody Bible Institute, and pits the Scarlet Hawks against the likes of tough regional opponents such as Elmhurst College and Carroll University of Wisconsin.
After an exhibition game against College of Lake County (Sunday, August 27), the Hawks open the season against Manchester University (Friday, September 1) in the first game of the Illinois Tech Invite, where four teams will be participating. The field includes the talented Wisconsin-Whitewater, who finished last season with a record of 14-5-3. The three-day tournament will end with a Sunday matinee as Illinois Tech plays Simpson College at 3:30 p.m. (Sunday, September 3).
"We are excited to open the season hosting the Illinois Tech Invite," said Head Men's Soccer Coach Marc Colwell. "We have brought in three high-level teams. It will be fun for our guys to match up against them."
Live audio, video, and statistics are set to be made available for all home matches in 2017. Live audio for all contests will be powered by Illinois Media School.
The full 2017 schedule can be found here.