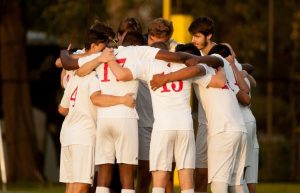 The Illinois Tech Men's Soccer team will head into its first year of competition as full NCAA Division III members in the Northern Athletics Collegiate Conference. With the new affiliations comes a 19-match schedule featuring 10 home contests, 11 NACC matches, and the chance at postseason play.
"It is exciting for our players to join a conference and begin new rivalries within NCAA Division III," said Head Coach Marc Colwell. "We return 26 players from last year's team that finished with 14 wins, so we are ready for the challenge of a new conference."
Before jumping into NACC play, the Scarlet Hawks will prep themselves with a challenging non-conference slate. After preseason scrimmages at home against Prairie State on Sunday, August 19 and University of Chicago (last year's third-ranked team in the United Soccer Coaches D3 Poll) on Wednesday, August 22. The Scarlet Hawks open the regular season schedule on Friday, August 31 at 7 p.m. at Stuart Field against Ripon College. It marks the fifth straight year Tech will oppose the Wisconsin school.
The team is coming off a strong season, finishing 14-5-1 overall with a .725 win percentage. The 14 wins doubled the program's 2016 total (seven) and the .725% mark is the team's best since finishing 14-4 (.778%) in 2008. All home matches this year are expected to have live audio, video, and statistics. All live audio will be powered by Illinois Media School.
The Scarlet Hawks will also play a five-match varsity reserve schedule, which can be found here. Live coverage will not be available for varsity reserve contests.