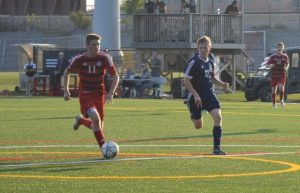 The Illinois Tech Men's Soccer team hosted an early evening contest on October 4 against Maranatha Baptist University. Illinois Tech scored five goals in the second half and four in the last eight minutes of the match, propelling the team to a 7-1 win.
How it Happened
It was the Scarlet Hawks who struck first, as Ryan Blackburn scored his first goal of the season. The unassisted goal in the 24th minute put Illinois Tech up 1-0.
After a MBU tally, Santiago Bartolome scored his first of two penalty kick goals in the 35th minute to put the Hawks up 2-1. It was just 57 seconds after Maranatha tied the score.
Bartolome took advantage of another penalty kick opportunity in the 59th minute to increase the cushion to 3-1. It was Bartolome's fifth goal of the season.
In the 82nd minute, the Scarlet Hawks would score the first of four goals over the last 7:22 of the match. Bartolome found Noah Griffith to make the score 4-1.
Diego Gutierrez Coronel proceeded to take over, scoring twice in just 38 seconds (85th and 86th minutes). The goals were his first two of the season.
To round out the scoring, Brandon Bortei-Doku (first goal of the season) scored off of a pass from Oluwaseun Ogunsanya (second assist of the season) to bring the final to 7-1.
Scarlet Hawk Standouts
Bartolome scored twice and also tallied two assists. He led the Hawks with seven shots and four shots on net.
Gutierrez Coronel scored twice on five shots (four on net).
Griffith scored once on six shots (three on net).
Bortei-Doku scored once on four shots (two on net).
Blackburn scored once on two shots (both on net).
Ogunsanya added an assist.
Stats to Know
The Scarlet Hawks have outscored opponents 13-1 over the last two matches.
Illinois Tech is now 4-2 in matches at Stuart Field this season.
The Scarlet Hawks outshot MBU 35-5.
Illinois Tech attempted a season-high 20 shots on goal.
Up Next
Illinois Tech will travel to St. Norbert College on Saturday, October 8 to take on the Green Knights. Match time is 2:30 p.m.