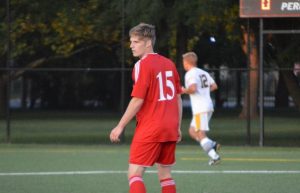 The Illinois Tech Men's Soccer team hosted the Finlandia University Lions in the second part of a women's/men's team double header on October 21. Illinois Tech pulled away late, winning 3-0.
How it Happened
Illinois Tech took control early on, peppering the Lions with shots out of the gate. Christopher Reed put the Hawks on the board in the 11th minute thanks to a great centering pass from Quentin Dreilich.
Finlandia began to generate some offense themselves, but the score remained deadlocked heading into halftime.
After a slow start to the second half offensively for both teams, Finlandia had some chances on three straight corners, while the Scarlet Hawks had a flurry of three quick shots with 14 minutes left to play. Every chance was turned away by the defense.
Illinois Tech added insurance shortly after. Zachary Whritenour scored on a double assist from Oluwaseun Ogunsanya and Brandon Bortei-Doku.
Ogunsanya managed to dish one more assist, finding Diego Gutierrez Coronel with 10 minutes to go.
Scarlet Hawk Standouts
Ogunsanya tallied two assists and attempted three shots.
Dreilich had an assist and two shots.
Reed scored and had a team-high five shots.
Whritenour tallied on his only shot.
Gutierrez Coronel scored on two shots.
Bortei-Doku had an assist and two shots.
Stats to Know
Shots were in favor of Illinois Tech (23-10).
Fouls were nearly even (Lions 12, Hawks 11).
The Scarlet Hawks improved to 11-4-1, while Finlandia fell to 6-8.
Up Next
Illinois Tech will host Monmouth College of Illinois on Tuesday, October 24 at 6 p.m. Live audio, video, and stats will be available. The live audio will be powered by Illinois Media School.