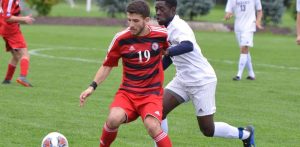 The Illinois Tech Men's Soccer team won its first Northern Athletics Collegiate Conference match of the season against Concordia (Chicago) at Stuart Field on October 3. The 2-0 victory snapped a five-game losing streak for the Scarlet Hawks.
Illinois Tech out shot the Cougars, 11-4.
How It Happened
The Scarlet Hawks played stellar, hard-nosed defense all match, allowing only four shots (one on goal).
Peter Fouchet found Conner Shaw near the top of the box and Shaw scored to give the Scarlet Hawks the 1-0 lead.
Alex Kern played the first half, without allowing a goal and recorded one save.
Anastasios Manolis played in the second half, did not record a save but did not allow a goal.
As time was winding down in the match, Santiago Bartolome scored in the 88th minute thanks to a feed from Oluwaseun Ogunsanya, moving the score to 2-0.
Scarlet Hawk Standouts
Anthony Olmos recorded two shots (one on goal).
Bartolome had two shot attempts (both on goal) and scored a goal.
Shaw recorded his second goal of the season on his only shot of the night.
Up Next
Illinois Tech returns to action on Saturday, October 6 against the Rockford University Regents at 3:30 p.m. at Sam Greeley Field.