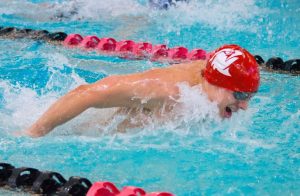 The Illinois Tech Men's Swimming and Diving team swam strong on the final day of the season, holding third place in the Liberal Arts Championships at Luther College. Illinois Tech finished with 534 points.
February 16 Highlights
Jay Korhonen placed second in the 400 Yard Individual Medley with a time of 4:08.47. Benjamin Cohen (10th, 4:29.29), RJ Schroeders (13th, 4:32.14), Peyton Goetschel (14th, 4:33.44), and Jason Voelker (16th, 4:56.99) were all finals qualifiers as well.
Illinois Tech also had several finalists in the 100 Yard Butterfly: Julian Escasa (seventh, 52.46s), Ryan Escasa (eighth, 53.05s), Tyler Van Wagener (10th, 52.46s), and Seth Wissenbach (11th, 53.30s).
Karsen Diepholz notched a second-place finish in the 200 Yard Freestyle with a time of 1:43.34. Zachary Bonson placed 14th (1:49.54).
In the 100 Yard Breaststroke, Louis German earned points with a seventh-place finish (1:01.76).
Matthew Randle continued his great freshman season with a sixth-place finish in the 100 Yard Backstroke (54.27s). John Wolniak was also a finalist (11th, 57.72s).
Randle, Korhonen, Van Wagener, and Wissenbach ended the day with a fourth-place 200 Yard Medley Relay swim (1:37.11).
Final Rankings – February 17
Franklin (811)
Nebraska Wesleyan (563.5)
Illinois Tech (534)
Loras (355)
Coe (287)
Luther (279)
Morningside (268.5)
Simpson 9188)
Principia (82)
February 17 Highlights
Diepholz added to his already storied career with an amazing 1650 Yard Freestyle swim, winning the race with a time of 15:59.97. His time, a Division III B-Cut, broke the Liberal Arts Conference meet record from last season, set a new Illinois Tech record, and set the Luther College pool record. Miles Thompson (fourth, 16:43.77), Bonson (fifth, 17:12.42), Goetschel (eighth, 17:16.33), Schroeders (ninth, 17:28.64), and Grant Kitahata (13th, 18:25.51) also swam well in the event.
Randle (sixth, 1:57.73), Cohen (ninth, 2:04.18), and Wolniak (12th, 2:07.58) all reached the finals in the 200 Yard Backstroke.
Julian Escasa (eighth, 48.31s) and Van Wagener (12th, 48.67s) recorded finals times in the 100 Yard Freestyle.
Korhonen was strong in his final collegiate meet, placing second in the 200 Yard Breaststroke at 2:09.56. German (eighth, 2:17.57) also joined him in the finals.
Ryan Escasa (1:58.00) and Wissenbach (1:58.68) were both outstanding in the 200 Yard Butterfly, finishing seventh and eighth respectively.
The day wrapped up with a fifth-place finish in the 400 Yard Freestyle Relay, as Julian Escasa, Korhonen, Wissenbach, and Diepholz recorded a time of 3:12.81.