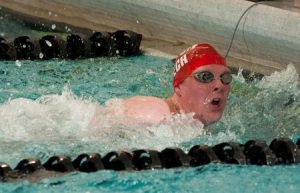 The Illinois Tech Men's Swimming and Diving team began its regular-season portion of January in strong fashion. Winning all but one event, the Scarlet Hawks defeated Lawrence University 159-48 on January 14.
Meet Highlights
Miles Thompson and Zach Bonson both stood out in the distance events, finishing first and second (Thompson 10:23.11, Bonson 10:34.41) in the 1000 Yard Freestyle. In the 500 Yard Freestyle, Bonson placed first (5:05.79) while Thompson followed (5:10.49). Luke Workman (third in the 500 at 5:18.19), Tristan Busch (fourth in the 500 at 5:20.70), and Grant Kitahata (third in the 1000 at 11:16.11) were also strong in those races. 
Julian Escasa continued his great season with a win in the 100 Yard Butterfly (55.37s) and a second-place finish in the 200 Yard Freestyle (1:48.04). He also led off the winning 400 Yard Freestyle Relay team (3:23.22), which included Workman, Karsen Diepholz, and Brendan Howley.
Diepholz also won the 200 Yard Freestyle, recording a time of (1:47.24) and the 100 Yard Freestyle with a time of 50.66s.
Howley was dominant once again, winning the 50 Yard Freestyle (22.01s) and 100 Yard Breaststroke (58.55s). Lou German followed Howley in the 100 Yard Breaststroke with a second-place finish (1:07.48).
Jay Korhonen won the 200 Yard Individual Medley with a time of 2:02.89. He also finished third in the 100 Yard Backstroke (59.98s).
Quote from Coach Griffin
"We've had a really tough 15 days of training. For the guys to step up and swim well while being this tired bodes well. The fight this team has shown throughout the year is really going to pay off in February."
Up Next
Illinois Tech will host Carroll University on Saturday, January 21 at Keating Sports Center's Ekco Pool. Meet time is set for 1 p.m. Live video of the meet will be streamed on illinoistechathletics.com and Facebook Live.