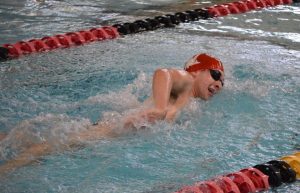 The Illinois Tech Men's Swimming and Diving team made the trip down Interstate 55 to Illinois Wesleyan University on November 11 to swim in a double dual against IWU and Carthage College. Illinois Tech downed the Titans 172-86 and fell to Carthage 210-84.
Meet Highlights
In the 1000 Yard Freestyle, Karsen Diepholz took home a victory with a time of 10:08.41. Peyton Goetschel placed fourth in the same event with a time of 10:33.38, an improvement of nearly 10 seconds.
Seth Wissenbach won the 200 yard Freestyle with a time of 1:48.65, a season-best.
In the 100 Yard Backstroke, Matthew Randle placed second at 57.55s. He also finished second in the 200 Yard Backstroke (2:06.24).
Jay Korhonen (2:02.71) and Wissenbach (2:06.27) occupied second and third place in the 200 Yard Butterfly. They also occupied third and fourth place in the 200 Yard Breaststroke (Korhonen – 2:13.96, Wissenbach – 2:23.38).
The Escasa brothers were strong in the 100 Yard Butterfly. Julian Escasa placed second (54.14s) while Ryan Escasa was right behind (54.22s).
Julian Escasa was also strong in the freestyle events. He placed third in the 50 Yard Freestyle at 22.53s and earned third-place in the 100 Yard Freestyle (49.36s).
Miles Thompson earned third place in the 500 Yard Freestyle, clocking in at a season-best 5:09.49.
Up Next
Illinois Tech has a big weekend ahead, as the Scarlet Hawks will head to University of Chicago to compete in the three-day Phoenix Fall Classic from Friday, November 17 through Sunday, November 19.