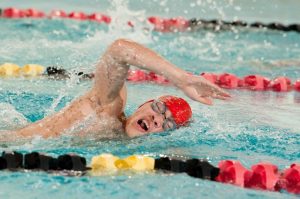 The Illinois Tech Men's Swimming and Diving team headed to Iowa on November 4 to oppose the Duhawks of Loras College. Behind solid performances, the Scarlet Hawks earned a 140-79 win in the dual.
Meet Highlights
Matthew Randle, Seth Wissenbach, Ryan Escasa, and Karsen Diepholz began the day with a 400 Yard Medley Relay win (3:42.75).
In the 1650 Yard Freestyle, Zachary Bonson (18:10.86), RJ Schroeders (18:29.66), and Grant Kitahata (19:05.07) occupied the top three spots.
Wissenbach followed up his 400 Yard Medley Relay performance with a first-place swim of 22.62s in the 50 Yard Freestyle.
The Scarlet Hawks dominated in the 400 Yard Individual Medley, with Jay Korhonen (4:20.40), Peyton Goetschel (4:45.97), and Benjamin Cohen (4:48.89) placing first, second, and third respectively.
In the 200 Yard Butterfly, Ryan Escasa placed first with a time of 2:02.23.
Another event the Scarlet Hawks placed all top three swimmers was the 200 Yard Backstroke. Randle (2:04.68), Korhonen (2:06.87), and John Wolniak (2:16.04) controlled the swim for Illinois Tech.
The 500 Yard Freestyle saw Miles Thompson (5:10.02) and Goetschel (5:11.28) take home first and second place respectively.
The 400 Yard Freestyle Relay team of Ryan Escasa, Randle, Korhonen, and Julian Escasa ended the day with a first-place time of 3:23.94.
Up Next
The Scarlet Hawks will square off against Illinois Wesleyan and Carthage on Saturday, November 11 at 1 p.m. at Illinois Wesleyan.