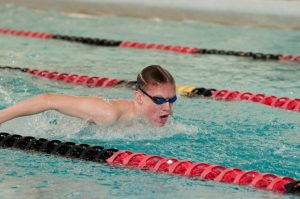 The Illinois Tech Men's Swimming and Diving team began its 2017–18 season on a strong note, hosting both St. Ambrose University and Illinois College in a double dual. The Scarlet Hawks impressed, downing St. Ambrose 125-78 and Illinois College 153-46. The following day the team trekked to Anderson, Indiana, and defeated host Anderson University 162-36, but fell short to Franklin 127-77.
Meet Highlights – October 20
Illinois Tech's top 400 Yard Medley Relay team opened up the season in victory. Julian Escasa (backstroke), Lou German (breaststroke), Ryan Escasa (butterfly), and Tyler Van Wagener (freestyle) teamed up for a 3:45.09 time, nine seconds ahead of the second-place squad.
Illinois Tech also had the two top finishers in the 200 Yard IM. Ryan Escasa opened up his collegiate career with a first-place finish (2:03.96), while Benjamin Cohen wasn't far behind at 2:14.24.
Julian Escasa and Van Wagener captured the top two 100 Yard Butterfly spots (53.56s, 54.82s).
In the 200 Yard Freestyle, Jay Korhonen placed first with a time of 1:50.82.
Matthew Randle won his first collegiate 100 Yard Backstroke race, taking the top spot at 57.03s.
Seth Wissenbach also opened his career in victory, winning the 100 Yard Breaststroke at 1:04.00.
In a tight race to close out the evening, Illinois Tech's top 200 Yard Freestyle Relay team of Julian Escasa, Korhonen, David Polzin, and Wissenbach edged out St. Ambrose with a 1:30.86 time. Wissenbach's final leg put the Scarlet Hawks over the top.
Meet Highlights – October 21
Korhonen bested the competition in the 200 Yard IM with his time of 2:03.35. He was followed closely by Ryan Escasa, who touched second with a 2:04.15 time. Randle placed fourth with a time of 2:07.03.
The Scarlet Hawks dominated in the 100 Yard Butterfly, leading the event with first and second place finishes by Ryan Escasa (53.46s) and Wissenbach(55.07s). Wissenbach earned a second place finish (22.63s) in the 50 Yard Freestyle and the 100 Yard Breaststroke (1:03.14) as well.
Miles Thompson was strong in the 1000 Yard Freestyle, placing second at 10:37.87.
In the 200 Yard Freestyle, Julian Escasa (second place, 1:48.25) and Karsen Diepholz (third place, 1:49.34) finished in the top three. Diepholz was also impressive in the 500 Yard Freestyle (4:59.81).
Julian Escasa (55.73s) and Randle (56.90s) were also strong in the 100 Yard Backstroke, placing second and third respectively.
Up Next
Illinois Tech will host UW-Whitewater and Beloit College on Saturday, October 28 at 1 p.m. at Ekco Pool. A live video stream will be available.