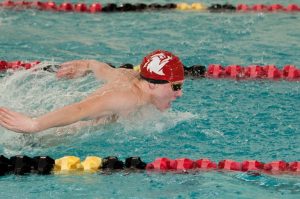 The Illinois Tech Men's Swimming and Diving team hosted Beloit College and perennial powerhouse University of Wisconsin-Whitewater at Ekco Pool on October 28. Illinois Tech defeated Beloit (166-36), but in a close finish, fell to UWW after the 200 Breaststroke (109-95).
Meet Highlights
Miles Thompson started the meet off strong with his first place finish in the 1000 Yard Freestyle, finishing with a time of 10:23.41.
Karsen Diepholz took first in the 200 Yard Freestyle, touching with a time of 1:48.98. Zachary Bonson finished closely behind with a 1:55.72 time.
Julian Escasa finished with a season best in the 50 Yard Freestyle, plowing in at 21.80s. He was followed closely by his teammates Seth Wissenbach (22.64), Lou German (23.88), David Polzin (23.92), and John Wolniak (24.48).
Julian Escasa also saw a season best in the 100 yard freestyle with a 48.03 time.
Illinois Tech finished strong in the 200 Yard Butterfly with Ryan Escasa finishing first (1:59.99). Wissenbach (second, 2:02.46) and Jay Korhonen (third, 2:02.86) followed.
Up Next
On Saturday, November 4 the Scarlet Hawks travel to Dubuque, Iowa, to compete against Loras College. The meet is set to start at 1 p.m.