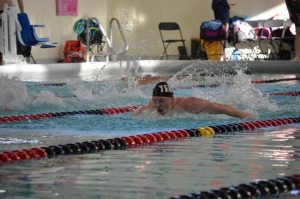 The Illinois Tech Men's Swimming and Diving team started the 2016-17 season on a very strong note on October 29 at Beloit College. The Scarlet Hawks won 10 of the 11 events, winning the dual meet by a score of 155-46.
Meet Highlights
The 200 Yard Medley Relay team of Ryan Lakner, Brendan Howley, Julian Escasa, and Euon Seok Jo dominated with a time of 1:38.09. The team's time was three seconds faster than Illinois Tech's 2016 Conference Championship time, putting the Scarlet Hawks in prime position to own the Liberal Arts Conference's fastest time of the 2016-17 season to date.
Four freshman recorded at least one win to open their collegiate careers: Karsen Diepholz (1:48.33 in the 200 Yard Freestyle, 4:54.04 in the 500 Yard Freestyle), Zachary Bonson (10:36.78 in the 1000 Yard Freestyle), Jo (50.10s in the 100 Yard Freestyle), and Lakner (56.97s in the 100 Yard Backstroke). Diepholz's 500 Yard Freestyle time, pending this weekend's results, is the fastest in the LAC to date.
Howley was also a winner in two events, taking first place in the 100 Yard Breaststroke (58.73s) and 50 Yard Freestyle (22.41s).
The Scarlet Hawks had the top three finishers in the 100 Yard Freestyle (Bonson, Tristan Busch, and Grant Kitahata), 200 Yard Freestyle (Diepholz, Luke Workman, and Miles Thompson), 100 Yard Butterfly (Escasa, Workman, and Matt Schindler), 500 Yard Freestyle (Diepholz, Thompson, and Bonson), and the 100 Yard Breaststroke (Howley, Lou German, and Aodhan Gorman).
Quote from the Coach
"I'm very happy with the way we performed considering the circumstances," said Head Coach Kyllian Griffin. "Mechanical issues resulted in a combination of dryland workouts and shortened practices at the University of Chicago early in the week in order to continue the team's training regimen. We had a number of very solid swims and are off to a great start for the rest of the season."
Up Next
The Scarlet Hawks will host Loras College on Saturday, November 5 at 1 p.m. to open the home schedule.