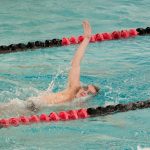 The Illinois Tech Men's Swimming and Diving team competed in the University of Chicago Phoenix Fall Classic November 17–19. The team finished in fifth place with a total of 267 points.
Meet Highlights – November 17
In the 200 Yard Freestyle Relay, the Scarlet "A" team of Seth Wissenbach, Tyler Van Wagener, Jay Korhonen, and Julian Escasa placed eighth overall at 1:27.94.
The Scarlet Hawks were strong in the 1650 Yard Freestyle, as four different swimmers earned points. Karsen Diepholz placed third (16:37.21), Peyton Goetschel earned a seventh place finish (17:15.09), Zachary Bonson came in ninth (17:30.20), and Miles Thompson touched tenth (17:30.69).
The 400 Yard Medley Relay "B" team of John Wolniak, Louis German, Van Wagener, and Diepholz earned points with an 11th place finish (3:42.81).
Meet Highlights – November 18
Illinois Tech's top 200 Yard Medley Relay team of Matthew Randle, German, Ryan Escasa, and Wissenbach placed 16th with a time of 1:39.60.
Korhonen placed 11th in the 200 Yard Individual Medley with a season-best time of 1:58.18.
In the 500 Yard Freestyle, Diepholz placed eighth with a time of 4:53.28.
Julian Escasa swam well in the 100 Yard Freestyle, qualifying for the finals and placing 13th at 47.98s.
Wissenbach and Ryan Escasa both reached the finals in the 200 Yard Butterfly. Wissenbach placed 10th (1:57.88), while Ryan Escasa placed 11th (1:58.77).
The 800 Yard Freestyle Relay team of Diepholz, Korhonen, Wissenbach, and Julian Escasa was strong, placing sixth with a time of 7:09.63.
Meet Highlights – November 19
Korhonen was incredible in the 400 Yard Individual Medley, placing second with a time of 4:10.34. It was an improvement over his first-place preliminary time of 4:11.05. Diepholz also earned points for Illinois Tech with a ninth place finish (4:17.68).
Korhonen's 200 Yard Breaststroke swim of 2:12.55 was also impressive, placing him seventh.
Illinois Tech also had two finals qualifiers in the 100 Yard Butterfly. Julian Escasa placed 11th with a time of 52.64s, while Van Wagener was right behind him in 12th at 52.89s.
Randle qualified for the finals in the 100 Yard Backstroke, placing 15th at 54.56s.
In the 50 Yard Freestyle, Julian Escasa finished in 15th place (22.36s).
The 400 Yard Freestyle Relay team of Wissenbach, Van Wagener, Diepholz, and Julian Escasa placed 10th with a time of 3:15.10.
Up Next
Illinois Tech will host the Ted Erikson Invite on Saturday, December 2 at 1 p.m. in Keating Sports Center's Ekco Pool. Live video for the meet will be made available.