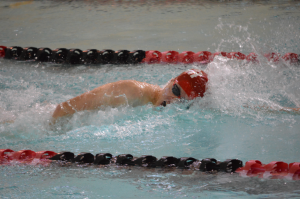 The Illinois Tech Men's Swimming and Diving team competed against tough regional opponents on November 12, hosting a double dual with Carthage College and Illinois Wesleyan University. The Scarlet Hawks defeated IWU 200-97 and fell 175-135 to a strong Carthage team.
Meet Highlights
Both the 200 Yard Medley Relay and 200 Yard Freestyle Relay placed first. Illinois Tech's freestyle relay team of Brendan Howley, Luke Workman, Julian Escasa, and Euon Seok Jo now has the Liberal Arts Conference's top time of 1:27.35 (pending Saturday's results). The medley relay team of Ryan Lakner, Howley, Escasa, and Jo won the event by over five seconds with a time of 1:36.45, which is just .31 seconds off the LAC's top mark.
Jo had arguably his best meet of what has been a great freshman season, winning both the 50 Yard Freestyle (21.60s) and 100 Yard Freestyle (46.78s) events.
Howley dominated the day's breaststroke events, winning both the 100 Yard (58.14s) and 200 Yard (2:12.60) races.
Escasa continued his strong season in the 100 Yard Butterfly, winning the November 12 race with a time of 54.46s. He was also third in the 50 Yard Freestyle (22.81s).
Karsen Diepholz's top two events of the day were the 500 Yard Freestyle (first place, 4:52.40) and 200 Yard Freestyle (second place, 1:46.79). Miles Thompson (third place, 5:02.28) and Zachary Bonson (fourth place, 5:03.77) followed Diepholz's lead in the 500 Yard Freestyle.
Bonson also performed well in the 100 Yard Freestyle, placing third with a time of 10:26.50.
Jay Korhonen placed second in the 200 Yard Butterfly (2:01.55), missing first place by just .04 seconds. He also placed third in the 200 Yard Breaststroke with a time of 2:18.93.
Up Next
The Scarlet Hawks will swim in the University of Chicago Phoenix Fall Classic from Friday, November 18 through Sunday, November 20.