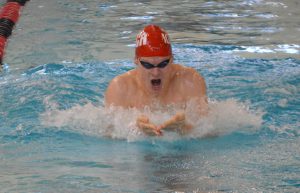 The Illinois Tech Men's Swimming and Diving team put together a dominant performance on November 5, defeating Liberal Arts Conference foe Loras College in a dual meet at Ekco Pool 173-54.
Meet Highlights
Fresh off of a Player of the Week award in his first collegiate meet, Karsen Diepholz won the 1000 Yard Freestyle with a time of 10:00.64. Diepholz, Miles Thompson (10:18.06), and Benjamin Cohen (11:14.32) finished first, second, and third in the event.
Thompson also placed first in the 500 Yard Freestyle with a time of 5:00.96, an event that saw Illinois Tech have the top five swimmers (Thompson, Zachary Bonson (5:01.40), Luke Workman (5:05.91), Tristan Busch (5:15.94), and Grant Kitahata (5:27.26).
The Scarlet Hawks also swept the 200 Yard Freestyle event, as Workman (1:51.05), Bonson (1:53.06), and Jay Korhonen (1:56.79) finished as the event's top three. Korhonen's final split of 26.98s allowed him to finish over two seconds to clinch third place.
Korhonen built off the momentum set in the 200 Yard Freestyle, winning the 400 Yard Individual Medley with a time of 4:22.09.
Julian Escasa won the 100 Yard Butterfly with a time of 52.89s and was also part of both the 400 Yard Medley Relay and 400 Yard Freestyle Relay victories.
Ryan Lakner, Brendan Howley, Escasa, and Euon Seok Jo combined for the 400 Yard Medley Relay victory (3:33.64). Howley also won the 100 Yard Breaststroke with a time of 58.75s.
In the 400 Yard Freestyle Relay, Escasa, Matt Schindler, Diepholz, and Workman placed first with a time of 3:22.13.
In addition to his contribution on the 400 Yard Medley Relay, Lakner won the 100 Yard Backstroke with a time of 56.84s.
David Polzin won the event's 1 Meter Diving event with a score of 168.75.
John Wolniak had a strong meet, highlighted by his second-place 100 Yard Backstroke finish (1:01.41) and 59.71s time in his leg of the 400 Yard Medley Relay.
Up Next
The Scarlet Hawks will host both Illinois Wesleyan and Carthage on Saturday, November 12 at 1 p.m. at Ekco Pool.