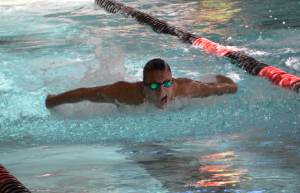 The Illinois Tech Men's Swimming and Diving team hosted the second annual Ted Erikson Invite on December 3 in Keating Sports Center's Ekco Pool. For the second year in the row, the Scarlet Hawks took first place.
Scores
Illinois Tech 278
Lincoln 138
Beloit 96
Manchester 74
North Central 23
Meet Highlights
The 200 Yard Medley Relay team of Ryan Lakner, Brendan Howley, Julian Escasa, and Euon Seok Jo placed first with a time of 1:38.16. Also, the 200 Yard Freestyle Relay team of Howley, Matt Schindler, Escasa, and Jo won with a time of 1:29.14.
Tristan Busch was dominant in the 1000 Yard Freestyle, placing first with a time of 10:56.78.
Karsen Diepholz continued his strong freshman season with another great 200 Yard Freestyle performance, placing first with a time of 1:49.07.
Howley put together another solid swim in the 100 Yard Breaststroke (first place, 58.83s).
In the 200 Yard Butterfly, Escasa placed first at 2:02.50. He also won the 100 Yard Freestyle with a time of 49.76s.
Jo took home first place in the 200 Yard Breaststroke (2:16.13) and 50 Yard Freestyle (22.12s).
Jay Korhonen won the 500 Yard Freestyle with a time of 5:05.82.
Luke Workman placed first in the 200 Yard Individual Medley with a time of 2:06.56.
Up Next
Illinois Tech's next scheduled meet is Saturday, January 14 at Lawrence University (1 p.m.).