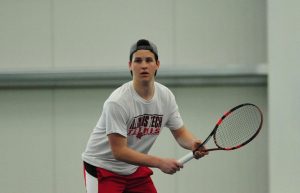 The Illinois Tech Men's Tennis team opposed future Northern Athletics Collegiate Conference opponent Concordia-Chicago on April 12. Illinois Tech moved to 9-11 on the season with a 9-0 drubbing of the Cougars.
Match Highlights
All of Illinois Tech's doubles tandems were victorious by wide margins. The top two tandems (Yousef Abdo/Adam Laitinen and Andrew Woltman/Brody Croonquist) won 8-1, while Abhishek Rana and Brian Ma won 8-0 in the third spot.
Four of the six singles matches were 6-0, 6-0 sweeps for the Scarlet Hawks, as Abdo (#1), Laitinen (#2), Croonquist (#4), and Woltman (#6) were victorious.
Up Next
The Scarlet Hawks will play at Marian (Wisconsin) on Friday, April 20 at 3 p.m.