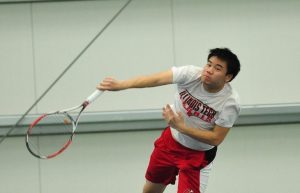 The Illinois Tech Men's Tennis team faced Wabash College and UW-Whitewater in Wisconsin on March 17. Illinois Tech was downed 9-0 by Wabash before falling 8-1 to the Warhawks. Illinois Tech is now 8-7 on the season.
How it Happened – Wabash Match
The Scarlet Hawks were downed 3-0 in doubles despite Yousef Abdo and Adam Laitinen playing close in #2 doubles (8-6).
Abdo (#2 singles) and Brody Croonquist (#5 singles) fell in tiebreakers. Laitinen was also defeated in similar fashion in #4 singles.
How it Happened – UW-Whitewater Match
After falling 8-2, 8-0, and 8-2 in doubles, Illinois Tech earned a singles win thanks to Franklin Zhong. He defeated UW's Zane Navratil 6-1, 2-6, 1-0 (10-3) in #1 singles.
The Scarlet Hawks were defeated in the other five singles matches. Abhishek Rana (#3) was closest, falling 6-2, 6-4.
Up Next
The Scarlet Hawks will take on Greeneville (11 a.m.) and Rose-Hulman (3 p.m.) at RHIT on Saturday, March 24.