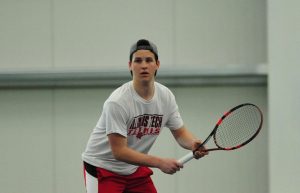 The Illinois Tech Men's Tennis team downed the Illinois Wesleyan University Titans on February 17, impressing for win number one in a 7-2 victory. Illinois Tech is now 1-3 on the season.
Match Highlights
The Scarlet Hawks were strong in doubles, winning in the second and third spots. The tandem of Yousef Abdo and Adam Laitinen took care of the opponent 8-3 in the second spot, while Franklin Zhong and Brody Croonquist won 8-1 in the third spot.
In singles, Abdo was also dominant, winning 6-1, 6-1 in the second spot.
The Scarlet Hawks also won in three, four, five, and six singles. Abhishek Rana (6-4, 6-4), Mike Rivich (6-1, 6-2), Laitinen (6-0, 6-2), and Croonquist (6-3, 6-0) all earned victories for Illinois Tech.