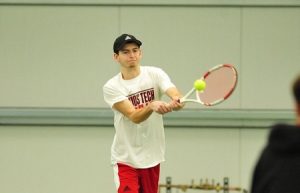 The Illinois Tech Men's Tennis team opposed the Augustana Vikings on March 9, falling to the hosts 9-0. The following day, the team competed in two matches against Michigan Intercollegiate Athletic Association schools. Illinois Tech defeated Alma 6-3 before falling to Calvin 8-1, moving 8-5 on the season.
Meet Highlights – Augustana 
How it Happened – Alma Match
Illinois Tech won two out of the three doubles matches. Zhong and Croonquist impressed in #1 doubles with an 8-0 win. Yousef Abdo and Laitinen were victorious 8-5 in #2 doubles.
Zhong (#1), Abdo (#2), Abhishek Rama (#4), and Jack Pio (#6) all were victorious in singles.
How it Happened – Calvin Match
Calvin won all three doubles matches. Illinois Tech's top tandem of Zhong and Croonquist came close, losing 9-7.
Abdo was the only victorious Scarlet Hawk in singles, winning 6-4, 6-4 in the number two spot.
Up Next 
The Scarlet Hawks play at UW-Whitewater against Wabash and Whitewater on Saturday, March 17. The matches are set for 2:30 p.m.