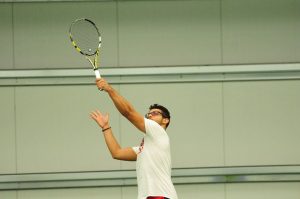 The Illinois Tech Men's Tennis team traveled to Indiana on March 24 to take on Greenville and host Rose-Hulman, falling 5-4 and 9-0.
How it Happened – Greenville Match
How it Happened – RHIT Match
While RHIT swept doubles, Abdo and Laitnen were strong once again, playing the Fightin' Engineers to an 8-6 score.
In singles, #4 Croonquist (4-6, 6-4, 10-6) and #5 Jack Pio (7-6, 1-6, 8-10) pushed matches to three sets.
Up Next
Illinois Tech will host Lake Forest and Principia on Saturday, March 31 beginning at 9 a.m.