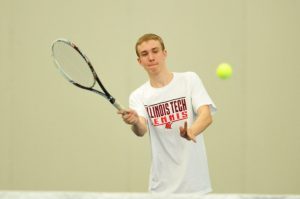 The Illinois Tech Men's Tennis team bested Prairie State College 5-3 on February 24 and won its sixth straight match against Lakeland on February 25, moving to 6-3 on the season.
How it Happened – Prairie State 
Prairie State started the match strong, defeating Illinois Tech in doubles in two out of the three spots.
Illinois Tech's #3 doubles tandem of Franklin Zhong and Brody Croonquist dominated to the tune of an 8-0 win.
The Scarlet Hawks made up plenty of ground in singles, winning five of six matches.
Zhong (#1 singles), Yousef Abdo (#2), and Mike Rivich (#3) all won tightly contested contests, with Abdo and Rivich winning in tiebreakers.
Croonquist dominated in #5 singles, winning 6-1, 6-2.
Jack Pio was impressive in #6 singles with a 6-0, 6-0 win.
How it Happened – Lakeland
Illinois Tech first swept in doubles, earning two individual sweeps as Abdo and Adam Laitinen (#1) and Zhong and Croonquist (#3) each won 8-0.
The duo of Andrew Woltman and Rivich were also victorious, winning 8-3 in #2 doubles.
In singles, Zhong (#1), Rivich (#3), Pio (#5), and Connor Mullane (#6) all won 6-0, 6-0.
Abdo was also victorious in #2 singles (6-1, 6-1), while Laitinen was a 6-1, 6-0 winner in #4 singles.
Up Next
Illinois Tech is off until Sunday, March 4 when the team travels to Holy Cross College in Notre Dame, Indiana. Match time is set for 11 a.m.