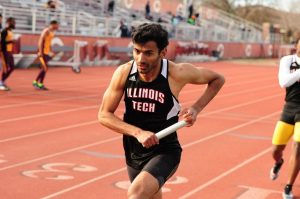 On April 8, the Illinois Tech Men's Track and Field team competed in the Big Blue Alumni Invite at Millikin University. The Scarlet Hawks placed ninth at the meet.
Meet Highlights
In the 1500m, Cole Dammeier placed 13th in the large field at 4:21.33. Jake Tracey finished 29th (4:42.79) in the same event.
Dammeier (18th, 2:08.24), Isaac Gewarges (25th, 2:11.36), and Tracey (34th, 2:25.92) all competed in the 800m.
In the 100m, Demis Thomas placed 17th with a time of 11.63s. Saisaketh Valluri (22nd, 12.09s) and Cole Fasnacht (26th, 13.35s) were not far behind.
Thomas placed in the Top 10 of the 200m (ninth place, 23.78s).
Valluri led the Scarlet Hawks in the long jump with an 11th place finish (5.95m). Fasnacht (18th, 5.23m) also competed.
Valluri was also strong in the triple jump (eighth place, 12.09m).
David Foreman placed 20th in the shot put (8.99m), 16th in the discus (31.85m), 17th in the javelin (32.45m), and 19th in the hammer (24.39m).
Up Next
Illinois Tech will compete at the Benedictine University Relays on Friday, April 14 and Saturday, April 15.