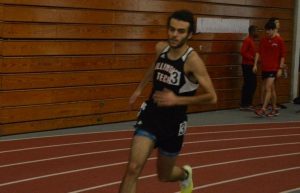 The Illinois Tech Men's Track and Field team competed at Anderson University's Fred Wilt Invite on February 25. Illinois Tech had some strong placements, as well as strong improvements.
Meet Highlights
Rayan Baig (10th place, 53.74s) and Demis Thomas (11th place, 53.95s) stood out in the 400 Meter Dash. They were also strong in the 60 Meter Dash (Thomas: 16th place, 7.55s; Baig: 18th place, 7.60s). 
Saisaketh Valluri finished 10th in the long jump with a 5.89m mark. He also placed sixth in the triple jump at 11.73m.
In the 5000 Meter Run, Cole Dammeier placed eighth with a time of 16:10.20.
Isaac Gewarges improved his seed time by 15 seconds in the 1000 Meter Run with a fifth place finish at 3:04.41.
Up Next
Illinois Tech is back in action on Saturday, March 4 at the UW-Stevens Point Final Qualifier.