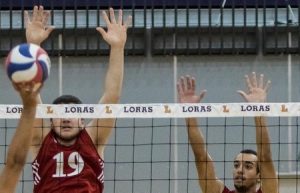 The Illinois Tech Men's Volleyball team began the 2017 season on January 15 with a tri-match at Loras College. The Scarlet Hawks defeated Mount Mercy University 3-0 in the first match of the day before falling to host Loras College in straight sets in the second match.
Scores
Illinois Tech 3, Mount Mercy 0 (25-20, 25-21, 25-20)
Loras 3, Illinois Tech 0 (15-25, 21-25, 25-27)
How it Happened – Mount Mercy Match
Illinois Tech's first point of the season came on a Michael Drews kill to tie the score at one. He also recorded the first two service aces of the season for the following two Illinois Tech points. Drews' start set the tone, as Illinois Tech trailed just once more in the entire set (5-4) en route to the 25-20 set one win.
In set two, Mount Mercy jumped out to an early lead, but a 4-0 run for the Hawks allowed the team to take a 9-7 advantage. Mount Mercy never took the lead back in the set.
Mount Mercy scored the first four points of set three and led 6-1 after seven points. However, Illinois Tech would chip away at the lead as the set progressed, breaking through with a 7-0 run that flipped the score from a 14-11 MMU lead to a 18-14 Illinois Tech advantage.
Scarlet Hawk Standouts – Mount Mercy Match
Drews led the team with seven kills and also tallied three service aces.
Lukasz Kupiec was strong in his first collegiate meet, tallying 17 assists, two blocks, nine digs, five kills, four aces, and an .833 hitting percentage.
Freshmen Yuriy Shepta (six kills), Derek Bostick (13 digs), and Evan Robeck (five kills, .625 hitting percentage, two blocks) all largely contributed to the win.
Paulo Sassmannschausen also tallied five kills in the win.
Stats to Know – Mount Mercy Match
Illinois Tech outhit MMU .230% to .057%.
Illinois Tech recorded 36 digs compared to 29 for Mount Mercy.
Illinois Tech tallied nine total blocks, while MMU managed just five.
How it Happened –Loras Match
Loras' strongest set of the match was the first, building an early 6-1 lead and never looking back.
In the second set, the teams traded points early on until Illinois Tech opened up a three-point lead at 12-9, which was the result of a 4-0 run highlighted by two David Allen kills. However, Loras answered back with a 10-3 run of its own, giving the Duhawks a strong enough cushion to hold off Illinois Tech.
Set three was tightly contested. Loras' lead reached as high as six (19-13) before the Scarlet Hawks mounted a furious comeback. Down 20-23, Illinois Tech scored four straight points to take a 24-23 advantage, with a Drews ace putting the Scarlet Hawks ahead. Loras tallied four of the next five points to win the set.
Scarlet Hawk Standouts – Loras Match
Allen led the team with nine kills. Drews tallied six of his own.
Kupiec added 15 assists in the defeat.
Bostick's nine digs led the squad.
Robeck totaled two blocks.
Stats to Know –Loras Match
Loras' serving was a key factor in the match, tallying nine aces compared to Illinois Tech's two.
Loras hit .186% compared to Illinois Tech's .000%.
Up Next
The Scarlet Hawks travel to nearby St. Xavier University on Thursday, January 19 for a 7 p.m. match.