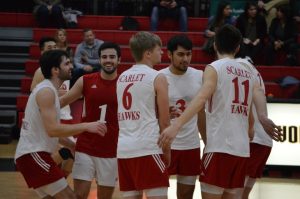 The Illinois Tech Men's Volleyball team opposed St. Xavier University on February 17 for the second time this season. Taking on the Cougars at home, the Scarlet Hawks fell against their Chicago counterparts 3-0.
Set Scores
SXU 3, Illinois Tech 0 (12-25, 21-25, 17-25)
How it Happened
The Cougars controlled most of the first set. After the Scarlet Hawks hung around early, SXU went on a 4-0 run to take a five-point lead at 11-6. The two teams traded points over the next eight volleys before a 5-0 run from the Cougars put SXU ahead 20-10. The team closed out the set on another 4-0 run to win 20-12.
In set two, the Cougars took an early 9-4 lead. The Scarlet Hawks worked the score all the way back to a 21-21 tie. The Cougars closed out by scoring four of the last six points to win 25-21.
The third set featured another early lead for the Cougars, but the Scarlet Hawks closed the gap quickly. Illinois Tech erased a 4-0 Cougar advantage with four straight points. Illinois Tech was tied 6-6 after 12 points, three of which came courtesy of Evan Robeck kills.
The Cougars were able to regroup, slowly building the lead and eventually winning the match 25-17.
Scarlet Hawk Standouts
Robeck led the team with nine kills and two blocks (one solo, one assisted).
Lukasz Kupiec tallied 12 assists.
Derek Bostick led the team with seven digs.
Up Next
The Scarlet Hawks are back for the second match of a seven-match homestand on Wednesday, February 22 against Trinity Christian College. Live audio, video, and stats will be available. The live audio will be powered by Illinois Media School.