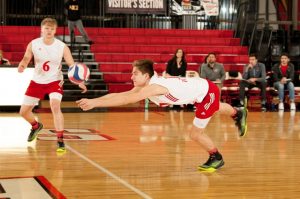 The Illinois Tech Men's Volleyball team opposed Loras College on February 23 and downed the Duhawks in a tight five-set match, moving to 7-9 on the season.
Scores
Illinois Tech 3, Loras 2 (23-25, 25-23, 20-25, 25-20, 15-13)
How it Happened
Kills were aplenty in the first set, as the two teams combined for 24. After Loras doubled-up Illinois Tech early at 12-6, the Scarlet Hawks stormed back to take a 17-16 lead. Loras proceeded to go on a 7-2 run to regain control of the set and hung on to win by two.
Loras picked up its momentum from set one in set two, scoring the first three points and holding it for most of the match.With the Duhawks up 18-14, Illinois Tech took its first lead of the match with a 5-0 run to go up 19-18. The two teams exchanged advantages until the Scarlet Hawks scored the final three points of the set, icing it on an Andriy Bench kill.
After going up 4-0 to start the third set, Loras would never trail. While the Hawks would stay close and cut the lead to one on two occasions, Loras managed to hang on 25-20.
Illinois Tech took its first lead of set four at 8-7 and never looked back, evening the match up at 2-2.
The Scarlet Hawks took the lead in set five on an Evan Robeck kill to go up 9-6. Loras moved to within one late at 14-3, but Cinjun Coe recorded one of his 24 kills to end the match in victory.
Scarlet Hawk Standouts 
Ben Peschl had an astounding 46 assists.
Coe tallied 24 kills and nine digs.
Robeck has 10 kills and six total blocks.
Derek Bostick led with 17 digs.
Stats to Know
Illinois Tech hit .151% compared to Loras' .146%.
Loras had the slight edge in digs 53-51.
Loras had seven aces compared to Illinois Tech's five.