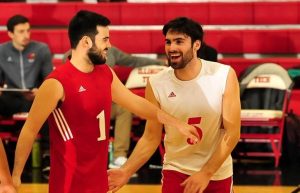 The Illinois Tech Men's Volleyball traveled to Michigan on April 1 to square-off against Wittenberg University and Olivet College. The Hawks dropped both matches in straight sets.
Scores
Wittenberg 3, Illinois Tech 0 (25-16, 25-22, 25-19) 
Olivet 3, Illinois Tech 0 (25-17, 25-21, 25-15)
How it Happened- Wittenberg Match
The Hawks started the match sluggish, as the Tigers offense pounced on the Hawks and gained a 10-4 lead early in the first set.
Several attack errors by the Tigers helped the Hawks claw back, but the offensive firepower of Wittenberg was too much for Illinois Tech.
Illinois Tech started the second set stronger, gaining an early 5-3 lead behind two kills from Evan Robeck. The set remained even up until the halfway point, when the Tigers were able to turn the tide and gain a two point lead (16-14). The Tigers were able to hold on to the lead winning the second set by three (25-22).
The Hawks continued to fight, but the Tigers firepower proved to be too much. Wittenberg won the third and final set by six (25-19).
Scarlet Hawk Standouts – Wittenberg Match
Stats to Know – Wittenberg Match
Wittenberg tallied seven more kills (34) than Illinois Tech (27).
The Hawks had 25 assists compared to 34 for the Tigers.
Wittenberg won the dig battle 32-24.
How it Happened – Olivet Match
The second match saw the Hawks start the first set sluggish, trailing early 7-2. The Hawks, behind the offense of Allen, were able to claw their back to within two (7-5).
Several errors by the Hawks gave Olivet a boost, as the offense started to heat up. The hosts pulled away to win the first set 25-18.
The second set was Illinois Tech's best, as the Hawks kept on fighting to gain a one point lead (12-11) after being down 9-5. The Comets went on a four-point streak to gain a 19-15 lead, pulling away to win the second set (25-21).
The Comets proved to be too much to overcome, as they won the third set 25-15.
Scarlet Hawk Standouts – Olivet Match
Kupiec had a match-high 12 kills to go along with 16 assists and two service aces
Woltman recorded a match-high 17 assists. He also had two service aces.
Drews had another effective match to close out his collegiate career, tallying 10 kills and five digs.
Stats to Know – Olivet Match
Illinois Tech (35) had three more kills than Olivet (32), but committed 27 attack errors compared to six for the Comets.
The Scarlet Hawks also outscored the Comets in assists, tallying 35 compared to 28 for Olivet.
The Hawks also outdid the Comets in service aces (6-5) and digs (32-26).