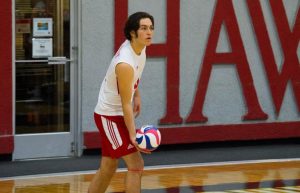 The Illinois Tech Men's Volleyball team faced Marian University, a future Northern Athletics Collegiate Conference opponent, on February 14. In what was a competitive match throughout, the Sabres (5-6) downed the Scarlet Hawks (5-8) 3-1.
Scores
Marian 3, Illinois Tech 1 (20-25, 21-25, 26-24, 20-25)
How it Happened
While Illinois Tech hit to the strong tune of .267% in the first set, Marian logged a .371% to counter. The strong attack allowed the Sabres to pull away late, closing out the set on two kills.
In set two, the Scarlet Hawks jumped out to a 4-2 lead before the Sabres went on a 6-1 run. Illinois Tech stayed close, but never regained the lead throughout the set.
The third set was the night's most exiting. After the Sabres went up 1-0, Illinois Tech took the lead and never relinquished it the rest of the way. However, after trailing by as many as six (15-9), Marian climbed back to tie the score at 21-21, 22-22, 23-23, and 24-24, as Marian countered every Illinois Tech point with one of its own. Lukasz Kupiec took over to give the Scarlet Hawks the set win, recording kills for the final two points.
Set four went Marian's way early (7-4), but Illinois Tech quickly regained some control, taking a lead at 14-13 on an Easton Kays kill. But Marian managed to pull back ahead and stave off Illinois Tech for the victory.
Scarlet Hawk Standouts
Kays tallied 11 kills, a block assist, and a team-high .444 hit percentage.
Cinjun Coe led the team with 19 kills, 11 digs, and a .293 hit percentage.
Kupiec added 10 kills of his own.
Setter Ben Peschl (28 assists) and libero Derek Bostick (14 digs) led the team in their respective categories.
Stats to Know
Marian outhit the Hawks .268% to .209% and had 56 kills compared to Illinois Tech's 47.
Aces (6-2), digs (54-47), and blocks (14-8) were also advantages for Marian.
Up Next
The Scarlet Hawks will host a tri-match on Saturday, February 17 with Cardinal Stritch and Calumet College of St. Joseph. Illinois Tech will face Cardinal Stritch at 3 p.m. and CCSJ at 7 p.m. Live audio, video, and stats will be available for all three matches. The live audio will be powered by Illinois Media School.