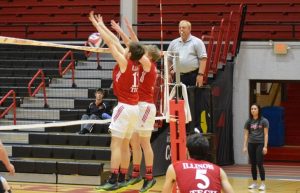 The Illinois Tech Men's Volleyball team participated in a tri-match on March 25 at North Central College. The Scarlet Hawks fell to Fontbonne University in straight sets before falling to the Cardinals 3-1.
How it Happened –Fontbonne Match
Illinois Tech and Fontbonne played a back-and-forth match early on. Illinois Tech was the first team to take control, taking the set's first two-point lead at 9-7. The Griffins seized the lead with a 3-0 run to go up 12-11. The Scarlet Hawks never took the lead back and fell 25-19.
Set two was the match's most exciting. After an early 7-3 Fontbonne advantage, Illinois Tech fought back and tied the score at 18-18. The Scarlet Hawks never trailed by more than two the rest of the set, but the Griffins won 27-25.
In set three, the Scarlet Hawks trailed 6-3 early before taking a 9-7 lead. A 7-1 Fontbonne run gave the Griffins the lead for good, as the opponents won the set 25-16.
Scarlet Hawk Standouts – Fontbonne Match
How it Happened – North Central Match
The first set belonged to Illinois Tech. North Central took an early lead, going up by as much as four at 14-10. But the Scarlet Hawks took a late lead, icing the set on an Allen kill to win 25-23.
The Cardinals were ahead early in set two (11-5). While the Scarlet Hawks managed to stay close, the team never led and NCC won 25-22.
In set three, Illinois Tech led 4-3 before the Cardinals rattled off five straight points. After the Scarlet Hawks worked back to tie the score at 11 on a Michael Drews ace, an 8-2 Cardinals run put the set out of reach. NCC took the 2-1 lead with a 25-19 score.
Set four was controlled by the hosts, as North Central took its first lead at 3-2 and never looked back. The Cardinals used a 7-0 run to propel to a 25-18 win.
Scarlet Hawk Standouts – North Central Match
Drews and Robeck each led the team with 10 kills. Robeck led the team with a .273 hitting percentage and three total blocks (one solo, two assisted).
Kupiec added 29 assists to lead the team.
Up Next
The Scarlet Hawks will head to Olivet, Michigan, on Saturday, April 1 to close out the season with one final tri-match. Illinois Tech will take on Wittenberg at 1 p.m. before facing host Olivet at 3 p.m.