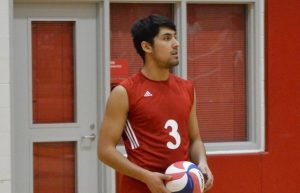 The Illinois Tech Men's Volleyball team hosted a tri-match on February 25, opposing Marian University (Wisconsin) and North Central College (Illinois). Illinois Tech dropped both matches in straight sets.
Scores
Marian 3, Illinois Tech 0 (20-25, 18-25, 22-25)
NCC 3, Illinois Tech 0 (18-25, 17-25, 23-25)
How it Happened
Illinois Tech played Marian tough in the first set, battling the Sabres early until a four-0 run late in the match put the Wisconsin school up 19-13. After the Sabres closed out set one, the momentum carried over into set two, as the visitors never trailed in the set.
The third and final set against Marian was back-and-fourth throughout. With Illinois Tech up 19-18 late, Marian scored three in a row to take a two-point lead, holding on to defeat the Scarlet Hawks.
Against North Central, the Scarlet Hawks allowed the Cardinals to build a large early lead and never recovered in set one. In set two, Illinois Tech lead by as many as three (8-5), but the Cardinals never trailed after a four-0 run put the Naperville school up 15-13.
The third set against NCC was tightly contested. The Scarlet Hawks built an early 8-3 lead and increased it to as much as six at 15-9. However, the Cardinals worked back into the match and stole the lead late to close things out.
Scarlet Hawk Standouts
Up Next
The Scarlet Hawks will host a Senior Day tri-match on Friday, March 3. Illinois Tech will host Olivet College (3 p.m.) and Robert Morris-Chicago (7 p.m.). Live audio, video, and stats will be available. The live audio will be powered by Illinois Media School.