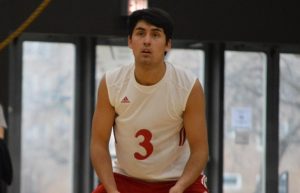 The Illinois Tech Men's Volleyball team saw its first action of the season at the Keating Sports Center as they took on Dominican University and Cardinal Stritch University. The Scarlet Hawks lost both matches 3-0.
Scores
Dominican 3, Illinois Tech 0 (25-16, 25-21, 25-18)
Cardinal 3, Illinois Tech 0 (25-17, 25-17, 25-11)
How It Happened – Dominican Match
The Stars' strongest set of the match was the first, where DU built an early 9-6 lead and never looked back as they won the set by nine.
The second set was evenly matched, as Illinois Tech and Dominican traded points all set. Lukasz Kupiec had three consecutive kills, but the Scarlet Hawks could not overcome the deficit and dropped the set by four.
The Hawks started the third set strong, as they built a 2-0 advantage. The Stars fought back, and both teams traded points until senior David Allen's service ace gave Illinois Tech a 7-5 lead. Dominican would ultimately end up stringing together several points and winning the final set by seven.
Scarlet Hawks Standouts – Dominican Match
Kupiec packed the stat sheet with nine kills, nine assists, and four digs. 
Andrew Woltman had a team-high 13 assists.
Derek Bostick led the team in digs with nine.
Michael Drews played a big role in the match with five kills.
How It Happened – Cardinal Stritch Match
Illinois Tech started out the match offensively and defensively strong, at one point holding a 10-7 lead. The Wolves then went on a five-point streak, thanks in part to consecutive kills by Connor O'Ryan, and won the first set 25-17.
The second set saw more of the same, as both teams exchanged points. The Hawks at one point had a 6-5 lead, but saw it quickly disappear as the Wolves played good defense and built a six point lead (18-12).
Illinois Tech came out flat footed in the third set, and Cardinal Stritch quickly had a five point lead (6-1). The Hawks kept fighting, but it wasn't enough as the Wolves pulled out the 25-11 victory in the set.
Scarlet Hawks Standouts- Cardinal Stritch Match
Kupiec had a very effective game with team-highs in assists (13) and digs (13) to go along with four kills.
Allen had a team-high 10 kills.
Drews contributed with six kills, five digs, and two assists.
Woltman had another good match and ended with nine assists.
Up Next
The Hawks next match will take place on Thursday, February 2 at 7 p.m. at the Keating Sports Center as they face off against Calumet College of St. Joseph. Live audio, video, and stats will be available. The live audio will be powered by Illinois Media School.