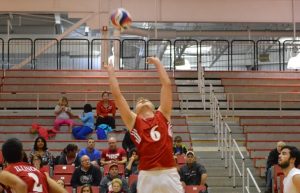 The Illinois Tech Men's Volleyball team traveled to Saint Xavier University on January 19. The Scarlet Hawks were defeated in straight sets.
Scores
SXU 3, Illinois Tech 0 (25-20, 25-14, 25-16)
How it Happened
The Cougars opened up a large lead early on in set one, taking an 18-9 advantage. However, the Scarlet Hawks mounted a comeback, going on a 4-0 and then a 7-1 run to pull to within four at 24-20. SXU would hang on to win 25-20.
After the Scarlet Hawks scored the set's first point and led 4-3 early on, the Cougars took control and led the rest of the set.
In set three, Saint Xavier took a 6-2 lead before the Scarlet Hawks came back to tie the score at eight with an Evan Robeck service ace. A 5-2 Cougar run vaulted the Cougars into control, holding the lead and closing the set out by scoring the final six points.
Scarlet Hawk Standouts
Up Next
Illinois Tech will play at Robert Morris on Wednesday, January 25 at 7 p.m. in Arlington Heights.