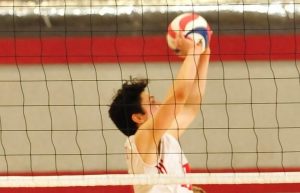 The Illinois Tech Men's Volleyball team welcomed Marian to the Keating Sports Center on March 7, falling 3-1.
Scores
Marian 3, Illinois Tech 1 (15-25, 25-16, 27-29, 21-25)
How it Happened
The Sabres executed early and led 13-7. Jon Smallpage led Marian with four kills in the first half of the first set. Illinois Tech managed to close the gap to four but that was as close as the Scarlet Hawks could get. Smallpage added two more kills to finish with six for the set and the Sabres led from start to finish with a 25-15 win.
The Scarlet Hawks began the second set better, leading 3-1 right away. Cinjun Coe and Lukasz Kupiec earned two of those initial points off kills. Illinois Tech extended the lead to five at 9-4, once again propelled by two more kills from Coe. Marian came back to within two but Illinois Tech quickly regained a five point lead 17-12. Fueled by Coe's eight kills in the set, Illinois Tech won handily 25-16.
Illinois Tech repeated the early success from the second set and grabbed a four point lead to start the third. Marian quickly erased that deficit to tie the game at 6-6. From there, the Sabres went up two after several Illinois Tech errors. As the score swung back and forth, neither team could gain more than a one point advantage until the Scarlet Hawks took a 22-19 lead, but the Sabres rebounded to tie the set at 23. The match naturally extended past 25 as both teams battled to the end. Marian was able to secure the win 29-27 after two Illinois Tech errors at the end.
The fourth set picked up and both teams found themselves tied at six in the early stages. Illinois Tech's Andriy Bench had three kills to start the fourth set and both teams matched each other to a 12-12 score. Unsurprisingly, the set reached an 18-18 tie before the Sabres went up 20-18. Marian held down the Hawks comeback and closed out the set and match from there with a 25-21 win.
Scarlet Hawk Standouts
Coe led the Scarlet Hawks with 21 kills on a .293 attack percentage. He added an ace, a block assist, and eight digs.
Kupiec ended with 14 kills on a .231 attack percentage with two assists and seven digs.
Bench had nine kills on a team-high .444 attack percentage plus four blocks and an ace.
Daniel Throop had 26 digs and 11 digs.
Stats to Know
Illinois Tech led in terms of kills 49-47 and attack percentage .208 to .197.
Both teams had four aces and 10 total blocks.
Marian led in digs (49-46).
Illinois Tech now has a record of 7-14.
Up Next
The Scarlet Hawks will travel to Greenville on Friday, March 9 for a road match at 7 p.m.